I love seeing what you all are making for our Macaroni Noodle Challenge!! So much fun is happening! Remember our Modern Mommy + Me pasta necklaces? Well I had to get one more project in as I've had Manicotti Dachshund Dogs on the brain ever since this challenge began. So we finally made some and the kids are nuts about them!
Making these is super easy and pretty self explanatory. Basically you –
Download and print the Weiner Dog artwork, found here. I would use a thick cardstock. Cut out the heads and tails.
Using craft paint, paint as many manicotti noodles as you want dogs. Let dry.
Using cardboard or a thick fiber board (say from a cereal box) cut out two long strips for the dogs legs (Just measure using  your manicotti noodle).
Fold over legs for the front and the back.
Glue on legs using a hot glue gun (low temp if kids are doing this themselves). Let dry.
Glue on the dogs head and tail using the glue gun as well. Let dry.
Color in a cheek if you wish! Now your Dachshund Dog is ready to play with!
These two…this pretty much sums up their relationship. Which is awesome.
Oh and we also kept the Macoroni necklace momentum going when we made more pretty things with friends Meta and Maja Coleman. I made another sweet necklace for this cherub by stringing a long line of painted macaroni noddles together and then folding them over one another to create three dangling layers. I then tied it off and added a string up top to loop around the head.
And as we definitely don't suggest using these necklaces as teethers, she sure is cute here. (she still puts everything in her mouth! I thought that was supposed to be over by now…sigh).
And remember! You have until Mother's day to join us and the Rockin' Art Moms in this Macaroni Challenge!!!
BONUS: Everyone who joins us in the challenge will be entered in an amazing Rockin' Art Moms Gift Basket giveaway. The winner will be selected at random from the entries and announced on Instagram and the Rockin' Art for Kids Facebookpage on Sunday May 10th, 2015.
Dreamy Prize basket giveaway will include books from the Rockin' Art Moms: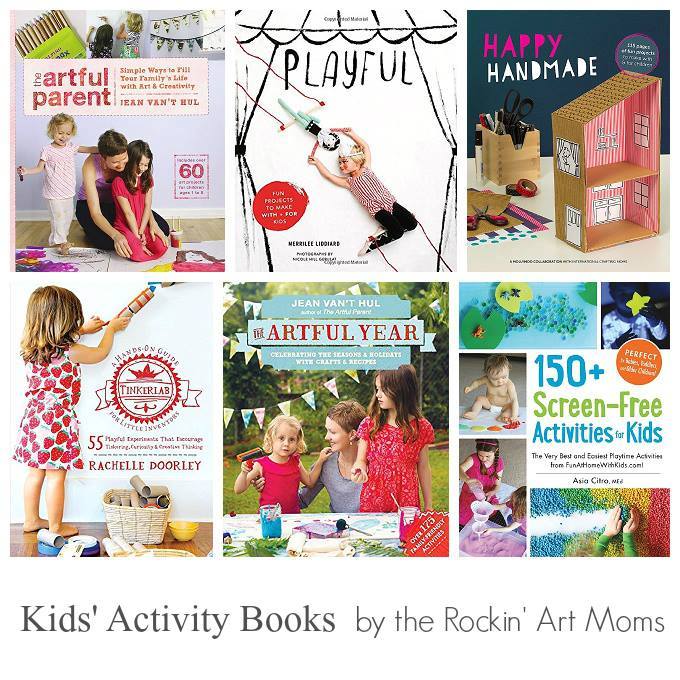 Playful
 (from Me!)  // The Artful Parent and The Artful Year
 from The Artful Parent // Tinkerlab
 from Tinkerlab //150 Screen Free Activities for Kid from Fun at Home with Kid
 // Happy Handmade (ebook) from MollyMoo
And if you haven't yet check out our Instagram hashtag #themacaronichallenge for fun ideas. And if you missed these, be sure to check out these other creative pasta craft ideas and join is in noodling around!
Macaroni Frames // Pink Stripey Socks
Art Assemblage with Kids // Art Bar
Painted Macaroni Necklaces // MollyMoo
Modern Pasta Necklaces // Mer Mag
Pretty Pasta Pendants // Pysselbolaget
Pasta Sculptures with Preschoolers // Meri Cherry
Macaroni Pom-Pom Flower Necklace //  Willowday
Pasta Art Activities for Kids // The Artful Parent
A Modern Macaroni Masterpiece // Handmakery
Stained Glass Pasta // Babble Dabble Do
Pasta Drawing Prompts // Picklebums
Painted Pasta Art // Learn Play Imagine
Mosaic Art Project for Kids // from Buggy and Buddy
Macaroni Mosaics // Tiny Rotten Peanuts
Spaghetti Tower Marshmallow Challenge // Tinkerlab
And to recap, here's how the challenge works: Create your own unique pasta project (or do one of our projects) and post a picture in one or both of these two places:
1. The Rockin Art for Kids Facebook Page
2.  Instagram using the hashtag #TheMacaroniChallenge 
Challenge ends on May 10th, 2015. During this week the Rockin' Art Moms will be sharing some of our favorite projects on our Facebook Pages.