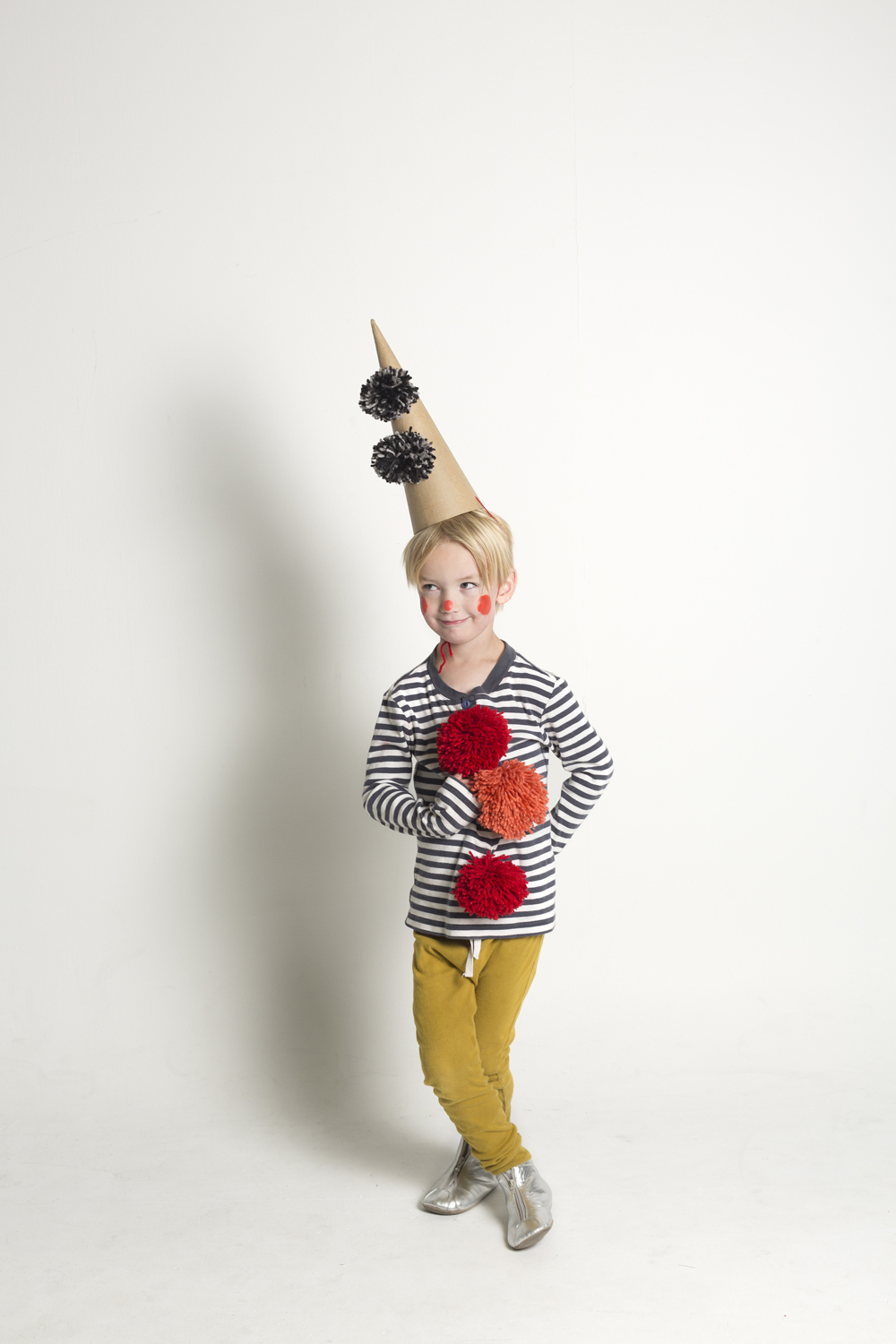 I made this super easy clown costume for our Kids 21 post last year and my Ollie had a blast playing it up (obviously ;)). In fact the other week to he came to me and said "Mom, I have a talent for being a clown" and then he gave me a sly look and continued, "you know what I'm talking about don't you mom?". I just about died. He most certainly is the class clown and clearly knows it.
 You make easily put this costume together this week in time for Halloween if you need a last minute costume (who am I kidding, I still haven't put together the boys costumes for this year. We're all a little last minute aren't we?). Basically just make a few oversized pom-pom's and pin them to a fun striped shirt. For the hat you can just use poster board or felt, or even a pre-made cone found at your local craft store. Add some fun silver boots to top it all off!
Trisha Zemp shot these for me and I love how she grabbed an in-process shot of me working. Ollie was such a champ on this shoot. And Trisha is great with kids too so that was lots of fun.
And don't forget to enter our Playful Cardboard Costume Constest (which doesn't actually require you to use cardboard-just something creative and repurposed! Halloween is this weekend but there is still time to gather together a few repurposed items and make something awesome. Post in IG and tag with #playfulcardboardcostumes to be entered to win a HUGE prize package! Like seriously. We're talking 2 copies of my book PLAYFUL: Fun Projects to Make With and For Kids, a $100 gift card to spend in my shop (which can go to a craft-along rag doll of you like!), a $100 gift card the the Oh Happy Day Party Shop, a $100 gift card to Freshly Picked moccasins, $100 gift card to Sycamore Street Press, $100 gift card to Sarah Jane Studios. WHOA. like seriously whoa people. That's an unprecedented amount of prizes! and I hope you win one! So pull out all your cardboard boxes and get your xacto knifes at the ready and get making! You have until Oct. 31st to make a costume and enter the contest (It doesn't have to be made out of cardboard necessarily, just think creatively and try to use repurposed items).
Can't wait to see what you do this week!!!